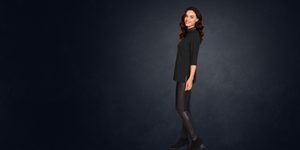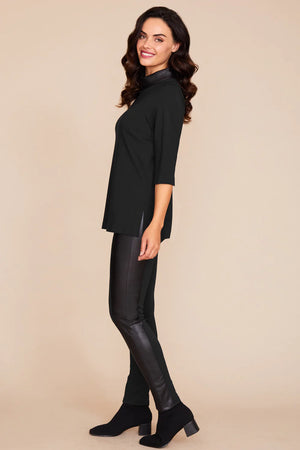 The Ultimate Woman's Pant's Guide
Pants, pants, pants! Where do we begin? There are so many styles to choose from for every possible occasion. Regardless of your body type or personal taste, there is an array of pant styles, colors, and fabrics available - it all depends on you.
Casual jeans for everyday wear, professional trousers and slacks for a chic office look, fun and sexy skinny jeans for a night out with the girls, or comfy jeggings for a day of lounging. There are so many essential pant styles every woman should own.
Need some guidance? Here's the "skinny" on current trends in women's pants styles.
The Casual Look
Modern casual pants for women are versatile, comfortable and most often, quite stylish. Jeggings are a top pick in terms of style and comfort, whether worn at home while doing chores or on a casual day trip. They are also the perfect travel pants for those getaways. These pants come in a variety of fabrics and styles. Offering the same level of comfort and versatility as leggings, jeggings provide a more defined look and the similar fit of classic or skinny denims. They can be paired with a tunic, crop top, jacket, or t-shirt. As far as footwear, they can be worn with tennis shoes, boots, or a sexy pair of heels. 
Another great option for a classy, casual look is skinny jeans. Skinny jeans for women are slim-fit and snug with tapered legs. These jeans are very popular and have become a staple wardrobe item for many women as they come in a variety of colors and styles including classic fit, cuffed, distressed, high-waisted, soft knit and carpenter. The sky is the limit in terms of tops, shoes and accessories to complement a quality pair of skinny jeans. A comfy oversized sweater, sexy crop top, conservative jacket or t-shirt are just a few available options. Boots, loafers, heels, or comfy sneaks can also be worn. 
The Formal/Professional Look
Whether its work or a formal function, there are many pant options for a more classic, conservative look. When it comes to work pants, the classic trousers offer a timeless, professional look. They can be worn to any standard work function and are very versatile. Traditional work trousers are usually boot-cut, wide-leg, flare leg or classic cut. They can be paired with suit jackets, buttoned tops, or cardigans with business loafers or kitten heels.
Jeggings have also become very popular in the workplace. When selecting jeggings for the workplace, it is important that they are well-fitted (not too tight) and should be a monochromatic color. While jeggings are not a top-choice for more formal business/social events, if styled correctly and done in the proper fabrication, they can prove to be show-stoppers. Classic knit jeggings paired with a form-fitted jacket can create a classy, yet trendy look when paired with the right accessories.
The perfect pant for office or social functions is the skinny trouser. The skinny trouser is a mash-up of the jegging, the classic trouser, and leggings for absolute perfection. Skinny trousers are offered in a variety of styles, colors and fabrics. Popular fabrics include vicose, nylon, elastane, spandex, polyester, and cotton. Trendy styles include cropped, high-waisted, pleated, and cigarette. Pair with a silk blouse, oversized blazer, fitted-ribbed turtleneck, or embroidered form-fitted jacket. The choice is yours! Create a dramatic couture inspired look or a more traditional preppy outfit.    
The Perfect Fit
We have all stumbled upon pants we have deemed "the perfect pair" at least a few times in our lives. The fit that works best for you is dependent on several factors, including your shape, personal style and purpose. Whatever you decide, remember one thing: simplicity and elegance are always a must.